Welcome to another edition of the Carnival of Cool Homeschoolers. I hope you enjoy reading the entries as much as I did.
This carnival starts off with a post from a very crafty blogger,
Kathy
. Kathy is the author of one of our favorite craft books,
Around the World Crafts: Great Activities for Kids who Like History, Math, Art, Science and More!
. Next week we're planning on making the abacus and the macala set from her book.
Kathy reminds us that Friday the 19th is the official
"International Talk like a Pirate Day".
Kathy's
post
gives you some really good resources to include "The International Talk Like a Pirate Day" into your homeschool day.
This following entry from
Happy to be @ Home
gives detailed instructions on how to go about making a flag for your homeschool. Just imagine the fun in your household if you use these instructions to make a pirate flag to go with "The International Talk Like a Pirate Day"!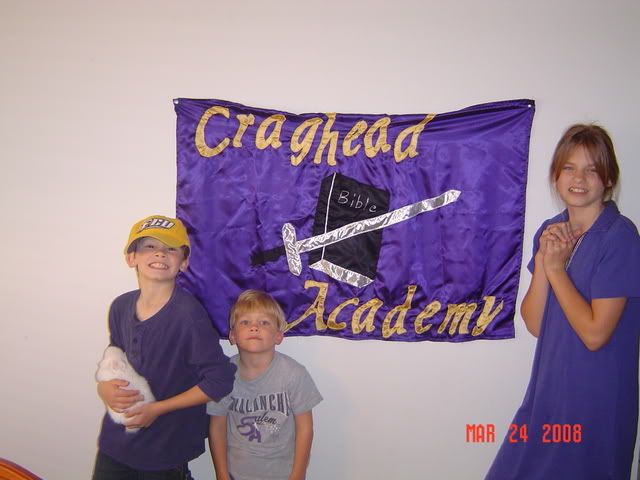 I want to make a flag for our homeschool but am rather worried about what it will end up looking like. I asked the kids what symbols they thought best reflected our homeschool. Shira said a vulture because it has the best sense of smell of all the birds and that means it's successful. She thinks that the word that best describes our homeschool is "successful". She then amended her symbol to a pyramid because pyramids took a lot of concerted effort to build and once built, the results lasted for thousands of years.
I have to admit to preferring the pryamid to the vulture. I suppose this is how our founding fathers felt when Ben Franklin suggested the turkey as the national bird.
Ben's ideas included a Rube Goldberg contraption and fireworks, because homeschooling allows you to invent things, is fun and full of surprises. The child has me seriously perplexed because I can't see that in our homeschool at all. At least he loves being homeschooled. I was worried about the fireworks until he explained their use to me. I suspected it was payback for how I lost my temper this morning.
Mother Hen from
Ship Full O'Pirates
has my eternal gratitude. Her little pirates, like my little Ben, always want to know
How Stuff Works
. Her little pirates, like my Ben, wanted to know how a drawbridge worked.
She has a fine video on her
blog
. I was glad of the reminder that
How Stuff Works
has many videos on their website. I need to bookmark this site on the children's computers.
Talking about computers, my new MacBook arrives tomorrow. Yeeha!! It's a thing of beauty. It's Marc's birthday on Saturday so he bought me a new computer. Now that's the way husband's birthdays are supposed to work. It also came with a steeply discounted iPod Touch. I've been wanting one of those for a while now because I dislike my Palm Pilot with a passion as I have never managed to get it to sync easily with my Mac. I always end up with dozens of bad entries. It is going to be so good to combine my PDA with my iPod.
Getting back to the carnival.... If you have preschoolers in your home, this
Three Little Pigs project
by
Piseco
is just the thing for you.
I have never gotten as fancy as Piseco and built props to go with our fairy stories but like her, I do love to read different versions of fairy stories to the children. Last year we spent weeks reading each of the well known fairy stories. There is a version of Cinderella in almost every culture. Of course, we always liked to end our reading of a fairy story with a fractured version of it.
At Home Science's
, Kris, lets us know about a neat physics game,
Fantastic Contraption
She writes: "
he object of the game is to move a pink wheel from the blue design box to the pink goal box by building your own fantastic contraption with only wheels and rods.

Be careful--you may find yourself spending a lot of time playing this one...
"
Homeschooling Ideas
has the perfect science project for budding scientists. She shows you how to create different flame colors using different chemicals and then, more importantly, provides the scientific explanation.
Larissa Walker from
Walker Homeschool Daze
writes how she has completely
revamped her history classes
. Her children always liked history, but now using her technique that involves a great text and Google, her children are loving history and more importantly are retaining much more than they used to.
As usual, Kris of
Weird, Unsocialized Homeschoolers
has a craft that enhances the teaching of ancient history. This edition sees her giving us detailed instructions on how to make a
Roman Headpiece
Lydia reviews a resource for studying
the presidents of the USA
I bought this book at Sam's Club when I was collecting materials to inform my elections unit production, because of the cool set of cards in the beginning of the book -- pictures of the presidents on the front and facts/trivia on the back, along with different game ideas for learning the names and order. That seemed like a great selling point, and it is. However, I've found that we're using this book a lot, and it has benefits beyond the deck of cards in the front. For example, there is *another* set of cards in the middle! Who knew?
After that first section, there is a page for every President, with a summary of their lives and the major events that happened during their presidencies.


Greg Laden
reviews "
The Complete Idiot's Guide to Pre-Algebra
"
What is Pre-Algebra (so you know, whether this book fits your needs or not)? The definition of Pre-Algebra probably varies a bit from place to palce and time to time, but here's a rough list of topics:
Basic number theory ... remember all those different kinds of numbers, like "natural" and "whole" and "skimmed" (no, wait, "skimmed" is milk, not numbers).
Addition, subtraction, multiplication and division ... (so what, you say!!!) of not just numbers but of exponents, decimals, negative and positive terms, and exponents. Ultimately, these are many of the basic rules you will need in algebra.
Basic expressions ... what re they ... and introduction to equations.
Geometry (areas, volume, etc. etc.) including the beginning of triangles. (Triangles are not just shapes, but rather, the beginnings of some heavy concepts. I mean after all, a whole branch of math is named after them ... Trigonometry. There is a reason we've never heard of Squarometry!)
Basic data analysis: Collecting data, display and basic analysis, and probability.
I cannot promise you that this book matches exactly your local state standards for pre-algebra math, but my sense is that it would for almost all possible users.
As luck would have it, two entries talk about children who don't want to be homeschooled.
Kim of
Kim's Play Place
writes about her children's dislike of homeschooling and what she is
doing
to try to make it more appealing to them. I've often been silently thankful that I have children who need alone time like they need oxygen. They find the idea of being surrounded by other children all day to be quite horrifying. Of course, this puts me in a tailspin when I think about what would have to them should something ever happen to me.
Kris of
Weird, Unsocialized Homeschoolers
writes a post with advice to homeschooling parents on what to do if your children want to go back to school.
Jaynelle, a military homeschooler who left Norfolk for Florida this year writes about
how to go about finding a new homeschool support group
based on her extensive experience. I've had itchy feet lately and Jaynelle's post made me realize how much I enjoy moving to new places. I'm forever researching homeschooling in far flung locales on the off chance we might get to move there.
Alasandra presents
Scholastic Blames Homeschoolers for Measles Outbreak
posted at
Alasandra's Homeschool Blog Awards
.
So they know 7,000 public school students didn't get vaccinated for "religious reasons" BUT Scholastic has an article entitled Homeschool Parents Spread Measles on their website. Why are homeschoolers being blamed instead of the 7,000 public school students who are unvaccinated due to religious reasons? They also ignore the fact that most parents make the decision to vaccinate before the child reaches school age (see vaccination schedule). The decision to homeschool may be driven by the parents desire not to expose their children to what they see as risky vaccines. But homeschooling isn't to blame for children being unvaccinated.
I was as irritated as Alasandra when I read this article. Our choice not to give the children the MMR vaccine had nothing to do with our decision to homeschool. We may give the MMR as three separate doses before they reach puberty but I need to do more research before we make that decision.
It seems as if
Thomas J. West
wrote this post just for me.
"I can't carry a tune in a bucket" is a common expression of those who consider themselves unmusical. Having a "tin ear" is another common description. It is certainly true that individuals possess varying levels of aptitude in regards to their musical intelligence, however, just like mathematic or linguistic intelligence, every person can take their aptitude level as a starting point and work to build stronger skills in that area.
Read the entire article on pitch development
here
I cannot sing a note in tune and worst of all, I cannot hear that I cannot do so. I am blessed, or cursed, with a daughter with perfect pitch. She used to cry as an infant when I tried to sing to her and as soon as she was old enough she'd put her hands over her ears and beg me to stop singing because she said it was so terrible it hurt her ears.
It's a very interesting experience being the mother to two musical children. Both children play the piano and recorder and Shira sings in a choir. I haven't been able to help them with their piano practice for months. My only role is to ensure that practice happens. We have to wait for Marc to come home from work to help them when they get stuck. They started with a new piano teacher this month and they absolutely adore her.
You know that saying, "the apple does not fall far from the tree"? It's very true in our family. We have two type A parents who get bored really easily and here we have two children who are thanking us for moving them to a very exacting teacher. They think it is the best thing in the world that she gives them far more homework and expects far more of them than their previous teacher. They think that it is so cool that they learn more in one lesson with her than they learned in 4 with the other teacher.
Keeping with the arts.... Dianne M. Buxton presents
Ballet Shoes, the Movie, With Emma Watson
posted at
Ballet Shoes and Pointe Shoes
.
This is amovie review of "Ballet Shoes" written by Noel Streatfeild and published in 1937. While I urge you not to miss out on the wonderful book, this movie is colorful and exciting. Three sisters with ambitions to fulfill their dreams, also focus on loyalty and devotion to their family.

Years ago I read a book on how to bring up boys. The author made a huge impression on me with one of his points. He stressed how important it was to have mentors in your child's life. That your child needs adults who he can learn from that are not mom and dad. He was not detracting from the importance of the parents' role, he just felt that as children reached their teens they often find it easier to take advice from adults who aren't their newly brain damaged parents.
One of my great sadnesses is that neither set of grandparents live near enough to be a daily presence in my children's lives. My stepdad would be the perfect person to mentor the children in handiwork, my mom in needle craft and my father-in-law would instill in them a love of math and science. He's already bought books for the children on DNA and physics and can't wait for them to be old enough so that he can teach it to them.
Cassie of
Homeschool Four
is lucky enough to have father who is an artist and who loves to teach her children.
My children would kill to have an artist for a grandfather. Look at these great paintings her children made with grandpa.
Don't forget that homeschoolers have the opportunity to have leading authors, editors and publishers judge their writing if they enter the
Book Arts Bash
The purpose of the Book Arts Bash is to have fun writing and illustrating books, and to help students and teachers reach across the curriculum to include writing and art in other areas of study. Any homeschooled student or homeschooling parent can enter.
Hurry, you only have 2 weeks left to enter.
I was surprised to discover quite how many US Olympians were homechooled. Kim of
Global Scholar
lists them and writes about different homeschooling options that are available, including online tutoring.
Serena and Venus Williams, two of the biggest names in Tennis, are both shining examples of homeschooled Olympians. Both grew were withdrawn from middle school and taught at home by their father, Richard Williams.

Their education included giving speeches at local schools and focusing on the basic subjects, such as math, science, English and social studies. Venus graduated in 1997 with a 3.9 GPA.

Thomas Finchum, 2008 U.S. diving contender, was also homeschooled. Thomas trains 5.5 hours per day, six days a week and is homeschooled at Emmaus Lutheran Middle School to keep up with his studies.

Another U.S. diver, Ariel Rittenhouse, receives her education online. She attends Halstrom International Online High School and follows the curriculum and testing requirements of a normal high school. Ariel can finish homework assignments and keep up with schoolwork while on diving trips and in-between practices.

Here are some additional athletes that opted for homeschooling over traditional school.
• Mark Hazinski – USA Table Tennis
• Katie Hoff – USA Swimming
• Kelci Bryant – USA Diving
• Nastia Luikin – USA Gymnastics
• David Boudia – USA Diving
• Amber Trani – USA Gymnastics
In saying goodbye, I leave you with this excellent post aimed at Wordpress bloggers. WordPress Hacker presents
Auto Create Navigation Tabs for New WordPress Pages
posted at
WordPress Hacker
.
In this article I explain how you can setup your blog to automatically create main navigation links/tabs when new pages are published by using custom fields to mark those pages you want to appear in the navigation menu.