Welcome to another edition of the Carnival of Cool Homeschoolers. I hope you enjoy reading the entries as much as I did.
I want to start with the blog post that is most important to our homeschool and that I suspect will be important in many other homeschools as well. Shell from
Eclectic Eccentricities
writes about how her
THINK bracelets
were born:
These aren't just to remind them to think before they speak (although that is the main purpose). Each of the letters actually stand for something. (Because if you don't stand for something, you'll fall for anything.... or something like that. )

Rather, it's an acronym for what's really going on in your head.

Is what you're about to say:

T- thoughtful
H - helpful
I - intelligent
N- necessary
K - kind
I plan on doing this activity with my children as they both need to learn to be kind to each other and think before they speak.
Have you always wanted to know how to make a hat out of duct tape but were too afraid to ask? Fear no more, Lydia, from
Little Blue School
has step-by-step instructions on how to make a
duct tape hat.
She writes, "
This project is part of the Vote for Me! Elections Unit Study hosted here at Little Blue School. All the lucky people who are attending the political conventions are going to be wearing those crazy, ridiculous, fashionable hats, so I decided to get us in the mood with duct tape hats.
"
We've bought our duct tape in a myriad of colors and plan on making our hats tomorrow. What are you waiting for?
One of my favorite homeschooling bloggers is Christine from
The Thinking Mother
. I find that her reviews always give me good solid information. For this carnival she reviews ,
"The Unnameables Book"
aimed at children ages 9-12.
Suzanne from
Adventures in Daily Living
is another blogger who writes excellent book reviews. For this carnival she reviews
Family Matters: Why Homeschooling Makes Sense by David Guterson
. She writes:
"In this non-fiction book, he informs, educates, inspires, and entertains. You need to know that he is awkwardly placed as a public school high-school English teacher who home-schools his own kids in the Pacific Northwest, so he has a rather unique view on the complexities of the home-school vs public school discussion."
I want to be a kid in
Piseco's
house! They've made their own kid sized, indoor
planetarium.
What fun!
Silvia
is one of those cool moms that I want to be. Her kids do all kinds of neat activities that other kids just dream of. This time her daughter got to make a
slingshot
. As Silvia says, "I
t's only fun till somebody loses an eye. But we try to have a more positive attitude.
"
Kris from
Weird, Unsocialized Homeschoolers
shares her instructions on how to make a
Roman Road
. I've known Kris in cyberspace since our children were preschoolers. She's a very cool mom who does really amazing activities with her kids. When you have time, browse through her blog - you'll find many fun activities to do in your homeschool. Best of all, she generally includes step-by-step instructions on how to do them.
There must be something about the name Kris that turns women into great bloggers. Kris from
At Home Science
is another blogger who has a blog filled to the brim with exceedingly useful information. Read her blog post about Zome tools (one of our FAVORITE construction "toys") and the
Golden Ratio
.




Julie from
Homeschooling Ideas
has a simple, elegant and fun way to help keep your children in touch with the seasons. She writes this about her
Tree Project
: "
The idea of the project is to decorate a large tree-shaped stick or twig each season. You can keep this simple, or go to town! As the season changes I will remind you it is time to re-decorate your tree, and give you some extra ideas of what to use, via this blog.
"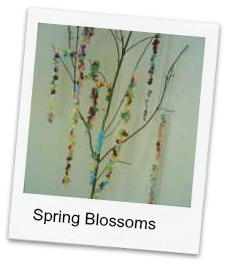 Don't forget to pop on over to
Alasandra's Homeschool Blog Awards
and nominate your favorite homeschool blogs. Have a look at the updated list of
nominees
. There's still time to make your own nominations.
Lydia reminds us that the deadline for the
Book Arts Bash
is nigh.
She writes: "
You have heard of the Book Arts Bash, right? It's a new writing program and contest for homeschooled writers, with twenty categories across the full spectrum of literary arts from novels to poetry to storytelling, dramatic skits, and book cover art. With five age groups in each category (including homeschooling moms and dads!) the Bash has something for everyone.
The list of judges is mind blowing:
Bestselling authors: Sara Gruen, Karen Abbott, Joshilyn Jackson, Dan Elish, Michael D'Orso, Robert Sabuda & Matthew Reinhart.

Industry Pros: Caryn Karmatz-Rudy and Emily Griffin (Editors, Grand Central Press), Kirby Kim and Daniel Lazar (literary agents in NYC), Caitlin Roper (Managing Editor, The Paris Review), Cressida Leyshon (Fiction Editor, The New Yorker), David Lynn (Editor, Kenyon Review).

Then we have homeschooling moms who are also published authors: Julia Devillers, Jennifer Roy, Melissa Wiley. Storytellers Bobby Norfolk, Odds Bodkins, Joel Ben Izzy. Internet Favorites: Ann Zeise (A to Z Home's Cool), Mir Kamin (Woulda Coulda Shoulda), Michelle Mitchell (Scribbit).

Former U.S. Poet Laureate Robert Pinsky.


Have your children started writing their entries yet? You only have a month left to send you entries to
The Book Arts Bash
Dr Adrian Preda writes about how
exercising the body is exercising the brain
. This is an important post for all educators. If we want our children to do well academically, we need to ensure they have sufficient physical exercise.
Alisa over at
Smart Teaching
has a blog post that will make all frugal homeschoolers very happy. She lists over a hundred ways to
score freebies
for your classroom. She promises: "
From audio books to activity kits to free software, you will find something in this list that you can use with your students.
"
Thomas once again shares very good tips for
practicing a musical instrument
. He addresses the body/mind ego and how it affects the results of music practice. I've been using this blog post with Shira for many aspects of her life. We're slowly, but surely, overcoming her fear of failure.
He writes: "
Students of music often say that something is "too hard" after being exposed to a new concept or musical task. I often tell them that "hard" and "easy" are labels that are relative only to their level of experience right now. A task is hard because it is unfamiliar. The student has not had enough experience with the task to master it. I often demonstrate something from their early day son their instrument and say "Remember when you thought this was hard? Now you think it's easy!"
"
He addresses many issues in this excellent
article
. While this article was written with the practice of a musical instrument in mind, I feel that much of the advice is relevant in our every day actions as well.
Margaret of
The Earthly Paradise
She writes about the educational opportunities that exist for homeschoolers with
iTunes U
: "
iTunes U was launched late last year by Apple in cooperation with a number of leading universities and other educational providers and is completely free and available to anyone. You can watch videos and listen to audio recordings from MIT, University College London and other great schools (in addition to content from Museums like MoMA).
Keeping with computers and education, Linsey Knerl writes how
computers worked for her family
. She writes" "
Will computer-based learning work for every child? I can't say for certain, as every child is different in their learning style. There is a learning curve for students who don't type well yet, and the program can be particular about what it accepts as a right or wrong answer. What I loved about it, however, is that I can go back in and give credit for items that I feel were correct, and I can always reassign problem lessons or botched quizzes. There is a greater amount of flexibility with the newer versions.
"
Alisa gives us a great list of a hundred
essential web tools
for homeschoolers.
Taking on the education of your children can be a rewarding and fun experience for all involved, but it requires a lot of preparation and organization. You can use the following web tools to enhance your homeschooling experience for yourself and your children. From general organizational tools to tools for specific subjects, you are bound to find some inspiration from the list
I'd like to end this carnival with information for the college bound homeschooler.
You can read about the best student credit cards at
Money Blue Book
. He writes some very wise words, "
Knowledge and Education Is Power, So If You Are A Parent, Be Sure To Teach Your Student Or Teen Financial Responsibility Early and Often
"
Scott shares the
Ten Commandments of finding college housing
.
Christina shares her
Ultimate Guide to Using Open Courseware
.