I bought Maria Miller's
Early Geometry
last week. The kids are loving it. Ben's in 7th heaven as he can read the text and work at his own speed. I just check on him to ensure he understands the concepts and once in a while insist that I get to teach a concept.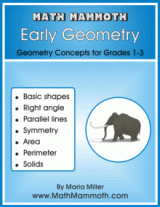 It's so exciting to see that one of my offspring has inherited my love for geometry. I used to spend hours doing geometry problems for fun as a kid.
Right now the kids are playing with
Mighty Mind
. This is the perfect tool for helping cement the concepts of shapes and how they fit together.